FOX is now live: http://alldakingsrdead.com/fox, including a beautiful quote from Laurence Fox.
"There's nothing I can say about my wife that doesn't sound cheesy. She isn't perfect. She's better than that. She's vulnerable when she needs to be. She's strong when she had to be. I love her more than anything in the world. I love just having her there so I can sit and watch." – Laurence Fox.
Kevin Morosky has created a new project about Billie, entitled F O X! It will be live tomorrow, 27.11.13 at www.alldakingsrdead.com!
Regarding Billie Piper in The Day of the Doctor Steven stated:
"I thought the story of Rose, which was beautiful, was done. I didn't want to add to it, I didn't feel qualified to add to it. That was always Russell's [T Davies] story. The way Russell ended it in The End of Time was perfect. I didn't want to stick another bit in. It would be wrong.
But we did want Billie Piper, one of the absolute heroes of Doctor Who, back in the show without interfering in the story of Rose Tyler. I think I might of spoiled something if I had done that.  Billie represents the rival of Doctor Who, more than anyone else. It's all about Billie, it's her show for two years. It's really startling watching The Runaway Bride and you're going, 'Where is she? Where is she? Where is the star of the show?'
Billie joined Chris Evans this morning on his breakfast show, along with husband Laurence Fox, to promote 'The Day of The Doctor'. You can listen to the full show HERE! Billie starts at around 2hrs.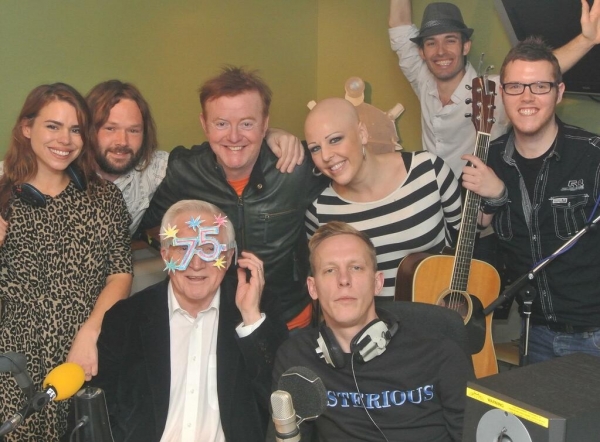 Billie was supporting husband, Laurence Fox, last night at the press night of 'Strangers on a Train'! We've added images of the After Party & photos of Billie and co leaving the theatre!
Fox, 35, stars as Guy Haines in the play, a stage adaptation of Patricia Highsmith's novel, also made into a 1951 film directed by Alfred Hitchcock.

Fox said the role of Guy, an ordinary man pulled into an extraordinary chain of events, was his favourite kind of part. "It's like Morecambe and Wise. You need the guy the drama happens to," he said.

"Given the choice, I would always prefer to play the guy who is a real person. I like the Everyman part. The hardest thing to understand is what a normal person would do in an extraordinary situation."

But the actor, who was supported in the audience by his Lewis co-star Kevin Whately, insisted that his wife was the true thespian in their marriage. "She's a much better actor than I am. I'm really pleased at that," he said. "It would be awful to go out with an actress who wasn't better than you. I love her for that. And she will always have my back."